It appears that famed Nigerian artist Davido's latest pastime is to taunt Chioma Rowland, the mother of his child, and it's lovely to watch.
Only a few days after his ex-fiancée presented her new look—a short blonde hairstyle—on social media, the singer of "assurance" mocked her and has now returned the favor in response to a video she posted online.
On her Instagram page, Chioma shared a promotional video for Tecno Mobile in which she discussed in-depth about the introduction of a new device she had received from the business.
READ MORE: R. Kelly Sentenced To 30 Years In Prison Over Sex Crimes
Chioma, who is known for saying very little and primarily using gestures in most of her videos, meanwhile, elicited responses from a variety of followers, including her baby daddy, Davido, who posted a witty comment.
"So u can talk", Davido asked.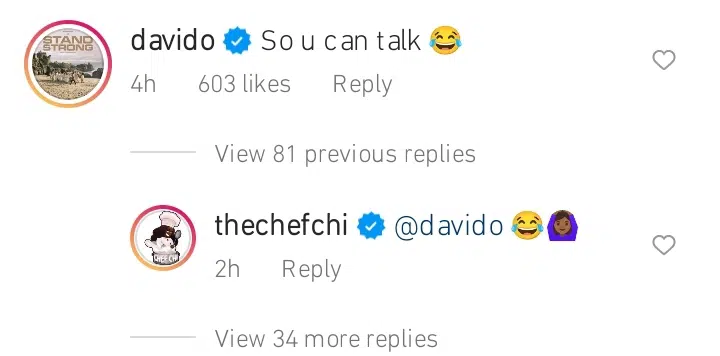 Chioma simply replied with a smile and a hands-on-head emoji.
Fans who were watching commented that it was their first opportunity to hear Chioma speak.
Below are some comments.
@delightfulchris wrote, "@davido my thoughts 😂😂😂 swears this is the first time @thechefchi is saying a word on IG 😂😂".
@mi_racle9551, "@davido 😂😂😂😂😂why re we thinking the same thing lols 😂😂😂 I have never heard her voice b4 this really crack up 😂😂😂😂😂😂".
@kikiskona, "First time I'm hearing your voice 😢😍😍😍😍😍😍".
@bharmie_dmw, "@davido make she influence na😂😂".