Prince Khalid bin Salman, the defense minister of Saudi Arabia, met with Ben Wallace, his British counterpart, for formal discussions on Tuesday in London, according to the official Saudi Press Agency (SPA).
Wallace greeted Prince Khalid at a formal reception organized in honor of the Saudi military minister in London's Royal Cavalry Guard Square.
During a meeting at the defense ministry's headquarters in Britain, the two discussed ways to further strengthen cooperation in the defense and military sectors while reviewing the strategic and historical ties between their respective kingdoms.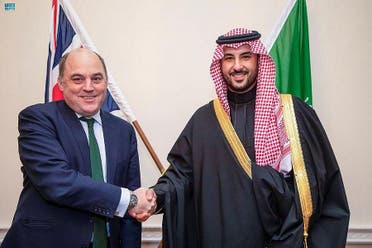 According to the SPA, the defense ministers also discussed matters of shared interest and the most recent regional and international security developments.
A defense cooperation plan, which Prince Khalid and Wallace signed, intends to deepen bilateral connections between the two countries and develop the capabilities of Saudi Arabia's defense ministry.
A delegation of senior Saudi officials traveled with Prince Khalid and landed in the UK on Monday for the official visit.
Visit to BAE Systems in Wharton, Cumbria
Prince Khalid also paid an official visit to the BAE Systems headquarters in Wharton, Cumbria, which is a British multinational arms, security, and aerospace corporation.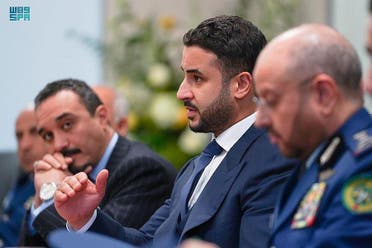 He was welcomed by the CEO of BAE Systems, Dr. Charles Woodburn, the Chief of Air Staff of the UK Air Force, Air Chief Marshal Sir Mike Wigston, and the British Military Attaché to Saudi Arabia, Brigadier Jimmy Piggott.
The Saudi defense minister was informed on the Typhoon aircraft and combat systems capabilities of the corporation, as well as its future goals, which included its program for combat air capabilities.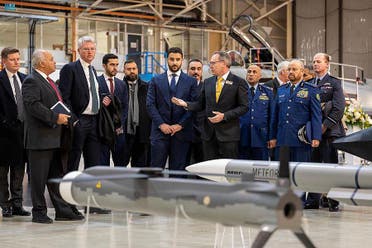 Prince Khalid was given a briefing on several contemporary aviation systems while he was visiting the company's location for the development and design of aviation systems.
According to SPA, they also talked about measures to improve the long-standing alliance between BAE Systems and the Saudi Armed Forces, which dates back more than 50 years.
This collaboration is said to have made significant contributions throughout the years to Saudi Arabia's defense industry, and more especially to the objectives set forward by Saudi Crown Prince Mohammed bin Salman in 2016 under Vision 2030.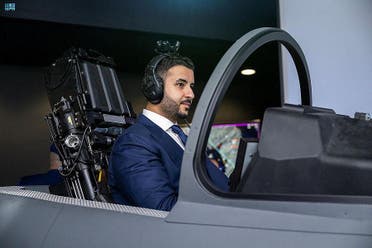 In recent years, Saudi Arabia has increased its defense budget. Ahmed al-Ohali, the Kingdom's governor of the general authority for the defense sector, disclosed on Monday that the nation had invested $1.4 billion in incentives to strengthen its domestic military industry over the previous two years.
Al-Ohali reported that the incentives included $877 million (3.3 billion riyals), which was earmarked for R&D in 2021 and 2022. He noted that Saudi Arabian Military Industries and other military-related businesses in the Kingdom received the remaining $478.6 million (1.8 billion riyals) (SAMI).
The third-largest defense budget in the world is now held by the Kingdom. By 2030, it is anticipated that Saudi Arabia's military sector will contribute around $25.2 billion (95 billion riyals) to the country's GDP.